Your Guide to the North Peace
Each year we continue to strive to promote the quality of life we all share in Fort St. John & area. We recognize local entrepreneurs, residents and community groups... promoting the community pride we all share. 
Featuring:
Community overview & locator maps
Comprehensive economic information
Highlights of business success stories and corporate development
Emphasis on our community pride and quality of living
Features on local community groups
Regional Business Directory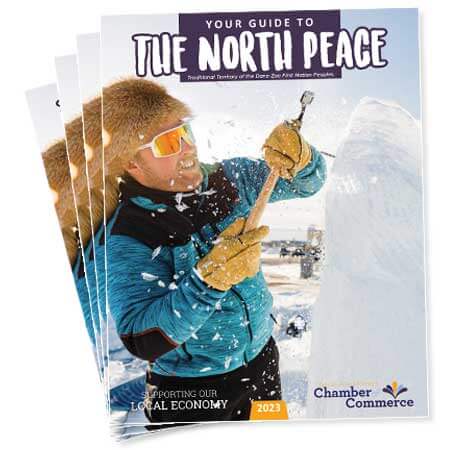 Be sure to get your own copy of the Your Guide to the North Peace! You can view the magazines' digital edition by clicking the links below and downloading a PDF copy.
File: FSJ Community Guide 2023 Online.pdf
Size: 12.2 MB
Looking for a Print Edition?
The magazine is available FREE for Residents, Business Owners, Economic Development inquiries, Relocation Packages and Visitors to the region.
Look for a copy at:
Visitor Centres across BC, Alberta and the Yukon
Airports in Dawson Creek, Fort St. John, and Fort Nelson
Local Hotels
Local Businesses
The Fort St. John Chamber of Commerce
Interested in Advertising?
We encourage you to take advantage of this affordable advertising opportunity!
Fort St. John & District Chamber of Commerce Members receive 10% off advertising rates!
Advertising and Publishing in partnership with RG Strategies.
For Advertising Information & Rates contact:
Robin Holstein
T: 250-785-3586
TF: 1-877-788-1313
E: robin@rgstrategies.com